A L A N  D O R E Y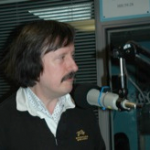 The Grove in Holbeck, just south of Leeds City Centre, is an odd sort of pub.It's an old Victorian back street bar – literally so as it's located on Back Row and these days, it's an oasis in a desert of modern warehousing, apartments and open-air carparks. Its two bars, narrow corridors and external white-washed slab walls mark it out as something a bit different, a building imbued with some sort of industrial history. And such is the case.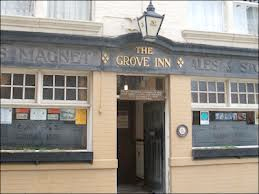 I first knew it in 1976 when its surroundings were very different: small brick factories and other dark and dank signs of local industry lingering still from Leeds' heyday as a manufacturing city. It was just south of the River Aire and main railway station and was the sort of place that you'd easily miss in a journey through the area. During the day, it was a true local, but in the evenings and weekends, it had quite a reputation as a folk-music venue. Not quite spit-and-sawdust, but not far from it. I was a bit of a folk and roots fan in those days and often saw little ads for The Grove in the Yorkshire Evening Post. Sue, my then girlfriend, suggested going there to see if it passed muster. We went on an open-mic night and I have to say, despite it being pretty heaving with punters, the quality of performers was less than inspiring. They had to battle against the cacophony from the bar, a bar often three or four deep with thirsty patrons and thus loudness rather than melody became the performers' weapon of choice.
However, there were one or two acts who fought against the tide and one of them was this skinny guy from Glasgow. He looked as if the merest puff of wind would blow him away, his guitar was almost as big as he was – but his voice and performance had the hallmark of something better than his fellow artists. If only he had a more conducive stage for his efforts, rather than a sticky-floored corner of the main bar. His name was John and we got talking to him during one of the breaks: he had a mate who had the knack of being able to roll a cigarette in one hand, something which impressed me at the time and this proved to be distracting as John somehow tried to steer the conversation onto the subject of science fiction. He produced a fanzine from a carrier bag, an A5 litho-produced product, orange cover, superb artwork – a fanzine called Black Hole. He was the editor, he explained, and it was produced by the Leeds University Union SF Group. Somehow, despite the noise and hubbub, Sue and I managed to buy a copy for the princely sum of 20p, although since this was almost the price of a pint, it was more of an investment than purchase.
On the bus back to Wetherby, I glanced through it and was impressed by the layout and artwork, although less excited by the fiction. I did notice some names – Carol Gregory (who had drawn the impressive cover) and John & Eve Harvey who had been amongst the founders of the fanzine and the then incarnation of the SF group. I also noticed that weekly meetings were held on Wednesdays in the Union Bar – and as I was about to start my BA course a few weeks later, I made a mental note to go along and try it out.
In the late summer, Sue and I drifted apart somewhat, mainly because she was going off to work and I was entering the world of academe and, dear reader, possibly because she liked the novels of the Barbara Cartland variety. Not the greatest mix with the other-worldliness of SF. But, I pressed on and went along to the first autumn term meeting of the LUU SF Group. The Union Bar was housed almost in the basement of a brutalist late 60s concrete extension to the main building. It was attractive in a stark kind of way, but did have a cheap bar and on this Wednesday night was not overly busy. The SF group turned out to be about a dozen folk and I quickly gleaned that some of their stalwart members had moved on at the end of the previous academic year. This left them a little rudderless, but there was David Pringle there, who I learnt, worked up in Wetherby and had been heavily involved in his time, but now just came along to keep up with events. Folk-singer John was there too and, goodness knows how, but he was looking for an art-editor for Black Hole and my hat ended up in the ring with one other. I wasn't a bad artist and had actually designed and laid out litho magazines before, albeit, in a less attractive and considered way than Black Hole. The other (metaphorical) hat was from a Welsh Fine Arts student, so I suspected that my chances would be quite small. His name was Jon Langford, then not far away from starting his little beat-combo The Mekons and, of course, younger brother of Dave Langford.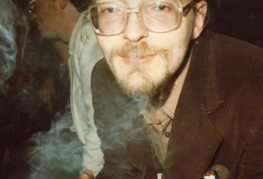 Fortunately for me, Jon never came to another meeting, so I was in! Roll out the carpets, light the lights and all that stuff. The next issue was due in December (1976) and the contributions folder was lighter than the lightest thing that's had all its weight taken away. Jon implored me to encourage members to cough up and it soon dawned on me that he was thinking of stepping down altogether as this was his Finals year. Through David Pringle, I met some drinking buddies of his who met in The Victoria behind Leeds Town Hall on a Friday night and that's how I found fandom-proper. Mike Dickinson and D West were amongst the regulars and they convinced me that real fanzines didn't have this fiction stuff, nor did they publish everything submitted. The penny dropped – and I set to with producing something a little bit different. Black Hole #8 appeared with a January 1977 date and through judicious use of pseudonyms, some LUUSF members and the odd true fan, it looked okay. The downside? It's a society fanzine, it got a grant from the union and it was sold to cover the gap in costs between grant and printing bill.
But, it was a start. The start of a slippery slope in some ways, but also, some truly engaging adventures too.
A year later, the university SF group had moved to a pub on Woodhouse Lane (The Pack Horse), three more issues of Black Hole had been produced, the Friday night meetings had grown in popularity, I'd produced the first three issues of my own fanzine (Gross Encounters) and we were bidding to put on the 1979 Eastercon. It was a true alignment of circumstances that led to this hotbed of activity and new fans and fanzines seemed to be sprouting up all around us. My interest in music was growing too – Leeds, it seems, was a hotbed of ambitious local bands and of course, quite apart from The Mekons (whose home pub was The Fenton where I kept up with them occasionally) we had The Gang Of Four. There were no decent big music venues in the city other than the University Refectory and the Polytechnic – but this played to my advantage as I got student rates and it was a good way for fellow SF fans to kick out the jams, as it were. Except, most of them didn't. Yes, a few drinks and a listen to the latest Jethro Tull waxing at someone's house might be fun, but going to see live music seemed to be anathema.
This changed in June 1978 when Mike Dickinson and I went on a creative SF writing course at Lumb Bank in Heptonstall, a small hill-top village above Hebden Bridge. It was a week-long residential affair run by The Arvon Foundation, held in the home of poet Ted Hughes (who by then was based mainly down in Devon) and it turned out to be a major catalyst in the explosion of both the Leeds Group and our musical leanings. Paul Kincaid – then living in Manchester – was on the course too, plus this tall Canadian, Geoff Ryman. We were impressed with Geoff – he'd had a story published. In a real book. And been paid for it. I was more impressed by the course tutors – well one of them: John Sladek. This was getting better and better – and on one night, a night that involved much drink and plotting, John had invited Mike Butterworth and Thomas M Disch to come along for the communal meal that we had to prepare each night. Two other participants included a civil engineer from just round the corner from me in Leeds (Simon Ounsley) and an odd-but-intriguing music enthusiast recently moved to Yorkshire from London, Graham James. We had a pretty wild time that night, culminating in the creation of that lost epic, 'Gonad The Barbarian', a thrilling and X-Rated sword and sorcery romp whereby each participant would write a section, leave it on a cliff-hanger and pass it to the next in line to create the next piece. Drink and music played its part in turning this into a hugely competitive event and even Tom Disch added his words, although I'm not quite sure he really was aware of what was going on. It was eventually turned in to the first of three fanzines aimed at raising funds for TAFF, a suitably positive outcome from much misspent energy and intrigue.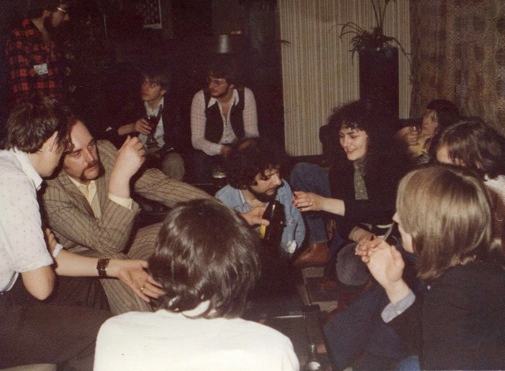 The musical interests within the Leeds group grew: Graham had an impressive collection of records and even better, a large house where we could gather post-pub, drink some more and explore his musical tastes. The upside, of course, was the quality of his LPs. The downside, Graham liked to sequence everything to his own tastes, so "requests" were regularly declined. But, it did mean that Country Joe & The Fish, Moby Grape, The Doors (particularly their debut album), Jefferson Airplane and a whole bunch of reggae and dub featured on a regular basis. It also meant that our gig-going increased dramatically – Ian Dury, Richard Hell, Graham Parker, Bob Dylan, Santana for example – and our Friday night pub meetings often led to a full Saturday doing stuff as well, usually a football match – and then a pub or gig and crashing back Chez James. Looking back, I think this constant round of activity all helped build and create the real vibe within the Leeds SF Group.
Another year later, and we're in the tail-end of the summer of 1979.
In the previous twelve months, we'd run a successful Eastercon (Yorcon), I'd become Chair of the BSFA and also won the Nova Award for Best Fanzine, David Pringle was working during the week in London at the SF Foundation with Malcolm Edwards, Graham & Simon had started a run of great fanzines with Ocelot, we'd started expanding one of the weekly SF meetings each month into a "Northern Tun" aimed at attracting fans from across the north of England – and we'd all been gearing up for the first UK-based worldcon in years. We looked forward to Seacon '79 at Brighton with great optimism, the chance to experience a big convention, the opportunity to meet up with all these US fans that we'd heard all about and something we could use as a further catalyst to enjoy fandom even more.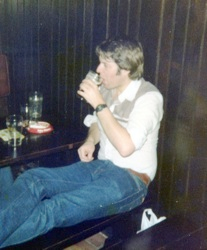 Looking back, it had only been three years from that brief meeting at The Grove to the thousands of fans who were going to flood the Metropole Hotel and The Brighton Centre. In some ways, I'm sure we could each of us pick a three-year slice of our lives and demonstrate big change, but for me, there was nothing quite like that roller-coaster ride in Leeds. It shaped me, it shaped my burgeoning musical tastes, it enabled me to write and produce fanzines and it brought a wide range of good friends. It's easy from this vantage point 34 years later to package up all the achievements and good bits and perhaps overlook the frustrations, the regrets and "might-have-beens". The start of it all was Sue suggesting that we go to The Grove that night, the end, in many ways, was of course the huge changes wrought on UK fandom by the fallout from the Worldcon. Yes, we pressed on and Good Times Were Had, but in that 1976-1979 period, there was something almost magical about how it all came together.
I titled this piece, shamelessly, by purloining a line from The Grateful Dead number 'Trucking', namely "What A Long Strange Trip It's Been". It still is, but I can't help but think that the anthem to all those Leeds-based adventures really belongs to The Doors and the opening track from their self-titled debut album. We played it to death at those post-pub gatherings and every time I hear it now, the memories of those days come flooding back.
I think in our own small way we did indeed "Break On Through To The Other Side".