J A C Q U E L I N E   M O NA H A N   A N D   J I M   M O W A T  T
The Trans-Atlantic Fan Fund, or TAFF (http://www.taff.org.uk/), is looking for candidates for the 2014 Eastbound TAFF trip. Candidates must:
• Be nominated by three North American SF fans.
• Be nominated by two European SF fans.
• Submit a written platform not exceeding 101 words.
• Post a bond of $20 (USD).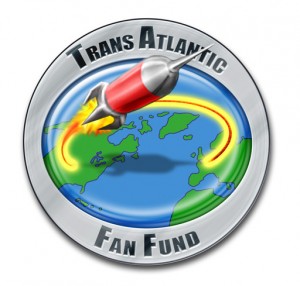 The candidates must also pledge to take the 2014 TAFF trip and attend LonCon 3, to be held in London, UK from 14th August to 18th August 2014 https://www.loncon3.org. TAFF delegates are expected to write and produce a trip report and will administer the fund for two years. The fan fund will pay for the trip, related expenses and the publication of the completed trip report. Candidates will be voted on by interested fans from all over the world – voters and nominators must be active SF fans that are known to the administrators.
Nominators should send their nominations to their local administrator.
The North American administrator is Jacqueline Monahan – her email address is
jaxn8r@msn.com and her postal address is 2991 El Cajon Street, Las
Vegas, NV 89169, United States.
The European administrator is Jim Mowatt – his email address is
jim.mowatt@gmail.com and his postal address is273 The Rowans, Milton, Cambridge, CB24 6ZA United Kingdom.
If you would like to take us up on this fantastic opportunity please find people to nominate you and let us know. The deadline for nominations is 23:59 PST on 31st December 2013.
Nominators should aim to have their nominations sent to the administrators as soon as possible. Voting will commence shortly after the close of nominations and ballots must be submitted by 23:59 PST on 22nd April 2014. If you have any questions about what's required of you or how to acquire nominations, please feel free to get in touch with either of us.