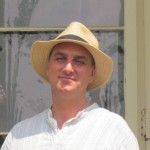 Welcome to Beam 7. Please do come in and drape yourselves around the room. May I say that you are all looking incredibly gorgeous and downright lovely as you lay there perusing the contents of this, our latest ish. There's a huge amount of good stuff in here and while I adore all of it I will particularly recommend Joseph Nicholas' article and the delightful illos by Al Sirois in the letters pages. Every one of them specially created for that letter of comment.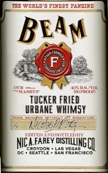 While you are looking through the zine you may be relieved or distraught to find that there is no TAFF trip reporting going on. You will fix me with a steely gaze and suggest that there is tardiness afoot. I shall shift my weight from foot to foot and mumble something about being busy and such. You snort derisively and I look nervously to left and right. Then I turn and scurry away, shouting over my shoulder that I've spotted someone 'over there' who I simply must see, 'right now'.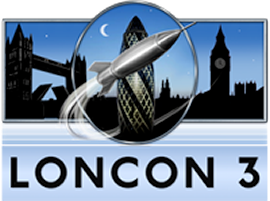 One of the things that I've been using as an excuse for not publishing more excerpts from my TAFF report is the forthcoming bloody British bloody Worldcon. Carrie and I are doing fan programming for this and are busily writing to potential participants and getting to know some of the other people we'll be working with at Worldcon. One in particular with whom we will be liaising is Emma England. I've never encountered Emma before but she seems to have a great deal of energy so that bodes well as regards stuff actually getting done. We will also be working with James Bacon, Ian Stockdale and Liz Batty. Hopefully it should be a lot of fun.
We are keen to run a programme that revives some of the fun times from conventions past when fans were happy to indulge in things silly, playful and ridiculous. We want to play games, do audience participation stuff, panel discussions, run workshops and put on theatrical presentations. All of these however we will strive to make relevant to you guys. It will be fandom celebrating itself and having a damn good giggle at the same time. Ideas, suggestions and offers of help are very welcome. Please email fanprog@loncon3.org. That email address will send mail to both Carrie and myself.
 Many people have asked how I am re-acclimatising to my return from a month in North America. The answer is remarkably well although desperately missing so many delightful people that I met on my journey. One of them was Nic Farey but I think I've almost recovered from that now. In Toronto Catherine Crockett made me welcome and found a place for me in her delightfully spacious home that was full of useful convention items, meccano models and the splendid Colin Hinz. In Abingdon Curt and Liz made a space for me among the many dogs and Curt laid on a special treat in the form of a trip to Monticello. In Seattle Randy squeezed me into a space amongst a very precious comics and book collection that had glass cases and frankly terrified me lest I should accidently breathe upon any of them. Then I went to see super capable Glenn Glazer and super artistic Alison Hershey. I would love to see some of her work adorning the covers of SF fanzines. We must see if we can persuade her to do something for Beam. Then a very quick overnight stay with David Gallaher. Real luxury there as I had my own en-suite bathroom. Then on the BART to Mission in San Francisco where Dixie and Jay found a cosy nook for me in a front room bedroom. I was a little baffled as to why they offered me ear plugs but caught the drift when I heard the shenanigans outside the bar just under the window. Then I basked in luxury in Vegas as JoHn Wesley Hardin arranged a stay in the Palace Casino/Hotel. Every day Jacq and JoHn came to take me away to experience exciting new adventures and bask in an ocean of delights and then many hours later deposit me back into the lap of Vegas casino luxury. From there it was onto Worldcon and another swanky hotel and then onto New Orleans where Rebecca Smith placed me on a bed in her front room amidst what seemed like several thousand cats but was more like a dozen. So many people and so much glorious hospitality. What a world that has such lovely people in it. Thank you all and I very much hope I wasn't too much of a burden upon you.
Jim Trash
Member fwa and Unusual Suspect
Cambridge, UK, October 2013