A H R V I D  E N G H O L M
Stockholm, 18th -20th of October 2013

Friday
As I arrived by bicycle to Dieselverkstan ("The Diesel Workshop") 5pm. Anders Reuterswärd at the reception said there were ca 300 pre-registered and about 40 who paid at the door, at that moment on Friday, good enough considering that the site is somewhat peripheral in Stockholm. I quickly set up my book table, with two books by publisher Zenzat (one my Murder on the Moon) and two editions of the Vildsint anthology (in which I participated) plus some info flyers, eg for my sf/f writing list SKRIVA, and old fanzines.
About 25 Finnish fans (14 of them arrived by ferry on what they called "Boatcon"), Norwegians, a few Brits, a couple of Icelanders living in Sweden, a German, probably at least someone from the US and some nationalities I didn't spot were there.
On Friday I heard the opening ceremony, and the GoH interview with Jo Walton, a fandom panel and another panel about "space communism".
Carolina Gomez Lagerlöf, the con chair, during the opening had to admit she still hadn't found the bottle 'The Spirit of Swecon' (with air from previous Swecons).
Some fans gathered in the pub (to the right of the entrance) but I was busy with programs and book table.
I managed to get a point in at the end of the fandom panel. Someone in the audience claimed that fandom grows faster than ever. It was clear that this was an allusion to all the masquerading, game playing and mediocre TV series. My objection was something like: "For me fandom is all about reading. On TV, I saw some news about one of these shows held at the Stockholm International Fairs. One person was painted blue all over the body. Others walked around with huge, strange contraptions on their heads. This is not the fandom I want to associated with."
Jo Walton in her GoH interview said that she actually been on the Internet since 1984! She remembered, among other things news group rec.arts.sf-lovers. I heard most of that "space communism" panel, led by Jerry Määttä. A bunch of adults actually praised communism as the Berlin Wall had never existed!
I wonder if I'd get any books sold? The day was a tad chilly.
Saturday
Arrived just before noon and heard Lavie Tidhar's interview. He talked about international SF, SF in China (which he has visited), his writing background and his next project – which is about Hitler … (Tidhar has Israeli background.) He had not seen the Finnish film about Nazis invading from the Moon, "Iron Sky". Once he ended up as hitchhiker for three weeks weeks in the Swedish city of Malmö.
Heard also parts of the panel "How to Make a Plot". The characters come with the plot, said Jo Walton. The ending must match the story's weight. It is good to rewrite and edit. To write about things you "hate" is inspiring, like "salt in ice cream."
On the interview with the scriptwriter of the Swedish robot TV drama "Real Humans", Lars Lundström said the second season begins on Swedish SVT December 1st, and will be "even better". The series was difficult to sell but they got money to do an 8 minute pilot and when SVT saw that it would be more about real people than nuts and bolts they gave it the green light. There is a 120 page outline written for a season 3, but a decision on such is not yet taken.
Then the panel "Modern dystopias", in a smaller room that became packed (I had to sit on the floor). John-Henri Holmberg mentioned that in the old Soviet times, in the Stalinism era, science fiction was in principle banned except for stories about how communism would spread. JHH basically said you had to, through some sort of central directive, write about The New Human communism claimed to create, decent politically correctly thinking people, stories set only in the near future (in the far future communism would have won anyway) and only in the Eastern Bloc countries. After Khruschev's speech to the SSSR party congress in 1956, where Stalin's crimes were revealed and criticised, and especially after Sputnik in 1957, this situation thawed and the Soviets realised that space stories could have propaganda value.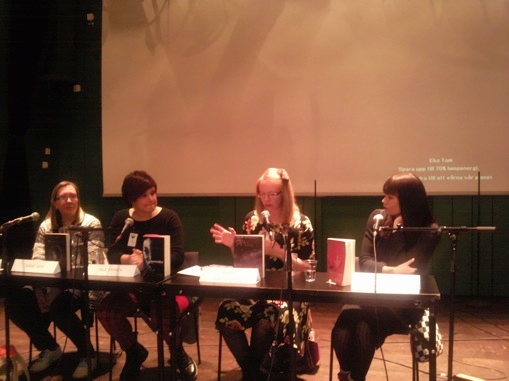 Then I heard the editors and agents panel. You are advised to re-write your manuscript several times and the market is very tough. And the script will be edited in a very tough way at several levels. JHH, again, noted that for Swedes the foreign "agent system" is starting to gain more ground here. Agents won't touch short stories, except for administrating re-selling of a client's backlog of such stories.
The Finnish-Swedish writers panel mentioned that there is only one publisher to handle their stuff in Finland in Swedish (official minority language in Finland). But they struggle on. It is difficult to break in to the national Swedish market for them, despite that national Swedish and Finland-Swedish is virtually identical in writing. Four Finland-Swedes were on the panel, all published several times, all women.
I had a short excursion to the "Atomic Bomb Over Stockholm" exhibition at the Stockholm County Museum, in the same building. The A-shelter known as "The Elephant" was not built at all for civil defense, as an exhibition text said. It belonged to one of the facilities the major spy Stig Wennerstrom sold out to the Soviets, and though military, became useless and was converted to civil defense. I also went to the exhibit "Utopian Visions" in the library part of Dieselverkstaden, panels of comics from Magasin Utopia.
I saw the final half of Lars-Olov Strandberg's convention pictures, a traditional event at Swedish cons. Everyone shouted out the names of people in the pictures, as tradition has it.
Wolf von Witting – once local Nacka Saltsjöbaden fandom's greatest BNF! – appeared unexpectedly! He proudly announced that his webzine Counterclock has had a beneficial review in Amazing Stories: http://amazingstoriesmag.com/2013/08/a-fans-history-part-the-next/
The Swecon voting was won by won by Steampunk Festival in Gävle (http://steampunkfestival.se/?lang=en June 27-29) with 27 votes, against 10 for Confetti in Gothenburg. The 2014 Swecon will add Cory Doctorow as new GoH and they plan to hire a museum train for cheap for transportation Stockholm-Gävle (ca 200 km north of Sthlm). It will be the first Swedish sf con in the half of the country known as Norrland. Confetti will be held anyway, even if they lose their booking for Sunday to the Church of Sweden, so they plan special activites for that day, eg sightseeing via Gothenburg Tramways. It is apparently the New Trend: Swedish cons rent rail…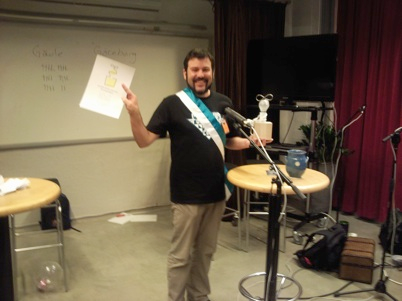 The Alvar Prize was won by Marten Svantesson. Apparently a close vote, which required two voting counts.
Saturday's evening party wasn't good. All they had was soda pop and candy. That's not bidding parties in the fannish tradition! If you can't have some blog, move it elsewhere. Bob Shaw would have raised serious scientific objections…
So I went home early, just before 10pm.
Sunday
I was tired of the slow WiFi – which kept my @SFJournalen con tweets back sometimes – and brought my laptop with 3G on Sunday. It worked better and I could throw out many more tweets than previously (hashtag was #swecon), and I think I got about 25 new followers during the con.
The first program item I saw was "Politics in SF". The discussion of religion was tough. John-Henri Holmberg lit the fire by noting that religion was superstitious nonsense. Lavie Tidhar said that sf people sought some form of transcendance, which could be a religion. Michael Cobley compared with the complexity of the Mandelbrot set and said that transcendence doesn't have to be supernatural. I asked a question about what the panel thought about utopias and moderator Glenn Petersen (hero of the old faanfiction crime story Brotherhood of Blood!) said that utopias won't boil your blood. Like: And how are things in your ideal society? Answer: Fine, thank you.
Missed both tips on Swedish sf /f panel and the Coffe Klatsch with the authors of the internationally successful YA book international success series The Circle, Sara EB and Mats S.
Instead I had a little time for socialising. Talked to Lavie Tidhar, who has been in China, about the China meeting in Stockholm recently (see report on Europa SF) and also exchanged views on Chinese sf with Swedish GoH Karin Tidbeck, who recently also visited the country.
Chatted with PC Jorgensen, Norway, who was here from Murmansk! He now works in Norwegian Consulate there..
At 2pm, I saw the HP Lovecraft panel led by the PhD in horror, Mattias Fyhr. He is teaching a course in horror which I am taking this autumn, over the Net, so the panel was A Must. Other members of the panel were Hanna Hård, Anders Fager and Gustav Tegby, responsible for the recent Necronomicon-musical at the Royal Dramatic Theatre. Fager's always fun to listen to, because he expresses himself quite fun and drastic. He said among other things that he writes in Lovecraft tradition, and also borrows from him (among other things, he made a rewrite of The Case of Charles Dexter Ward) and he writes what he calls sink sex splatter.
There was talk of Lovecraft's heavy, complicated, intricate, headstrong, quirky, old-fashioned stylistics full of adjectives. Fyhr said that the style still had something, adjectives said things necessary, and that the style has a rock'n'roll feel – often especially hard rock bands inspired by HPL. He also said that "Alien" is the best Lovecraft-film adaptation, with a script that is full of HP references, a Lovecraft story in space.
Someone in the audience said that Lovecraft's popularity perhaps due to today's alienated, confused youngsters may recognize themselves in that writer whose life was "so empty". But Lovecraft didn't have an empty life, Fyhr pointed out. He had a huge social network via correspondence. He traveled and visited friends, backpacking in the wilderness. He was also married for a time, and dated. He took one date to his favorite graveyard and scared the hell out of her. In addition, he was active in amateur press and went to their conventions. Fager pointed out that HPL had 1880s values.
I asked a question about the paradox that HPLl meddled in the supernatural, but was interested in the latest science. He was an amateur astronomer and and always promoted rationalism. Hård said that he absolutely did not want to commit suicide, "because then I would miss the exciting new technolology ". Tegby commented that HPL also expressed that he was "sorry that he could not believe his own irrational, literary world. "
I chatted with Fyhr after this interesting panel. He thought it was uplifting to visit a convention if this tupe, more informal and with more enthusiasm, rather tha the rather dreary academic seminars he has to put up with.
Then I attended the International sf panel (Rolf Andersen, Norway – Moderator – Lavie Tidhar/Israel, Tanya Tynjälä, Finland/Peru; Thomas Recktenwald/Germany, Karin Tidbeck/Sweden, and John-Henri Holmberg, Sweden). Many writers advice were given, as well as views on trends in skiffy. In China for example fantasy seems to be popular, and in Mexico cyberpunk, by being near hi-tech USA. South America has a lot of magic realism, of course. But it is difficult to find out what is published in fantastic literature in other countries. Rolf pointed out that even in Scandinavia, even though the languages are so close, it is difficult for the Danes, Norwegians and Swedes (and Finland-Swedes, should be added) to know what is being published in the neighbouring countries, though they could easily read it. Karin Tidbeck who has reached certain success abroad, pointed out that her Swedish publishing house did not have a clue about how to promote her, but the she got a foreign agent with the publisher's blessing, and it went better.
From the ocean of the audience I raised my little hand and noted that in the wake of The Scandinavian Crime Wave also Scandinavian horror reached out (JA Lindqvist, Å Schwarz, J Theorin, J Sinisalo etc). Blood is blood, crime and horror is both noir.
At the closing ceremony at 16.00, con chair Carolina thanked all of the committee and the gopher gang, the guests of honor.
The Spirit and Swecon bottle was still missing so chair Carolina improvised. She had a 7Eleven coffee mug, which was sealed and handed over to Anna Davour for Steampunk Festival 2014. They'll have to empty the air in the real bottle, if found.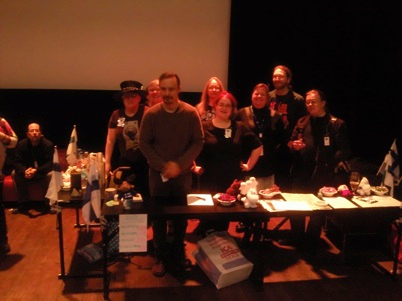 While the con was closing I chatted among others with Eemeli Aro, Finland, who thought Helsinki had a chance with their Worldcon bid for 2017. And Flemming Rasch, Denmark, who said there's now not so much animosity between SF Cirklen and the society Fantastik (both making their own cons, own web sites, both in Copenhagen). SFC is little more sercon and Fantastik is a tad more social, but the rivalry seems to have been put on the shelf.
I biked to the Dead Dog party at Bishop's Arms, near Slussen and the Old Town, cobbled streets and all. At the first table they began to talk about gaming which doesn't interest me, so I moved to Carolina's table. Was told that Fantastika probably is in the black economically, as it got – as it showed – ca 450 in attendance.
Summary
Fantastika 2013 was very successful. The facilities were nice – a little like a space station, eg the technological sculpture of a light bulb in the middle, which the EU would probably like to ban… All programs started almost on time. There were three program tracks (sometimes even four) and some side stuff, like the Coffe Klatsches, there was a bar and a café. The Alvar Fund second hand books were there, the SF-Bokhandeln in Stockholm and 10 + other booksellers – and I did sell a book! Anna Davour had made a small sf history exhibit. Karl-Johan Norén published three issues of a a newsletter (which I contributed to) but missed Friday due train troubles. In the past, when cons were 80-100 fen, I knew the majority of attendees. But with 450 it was by necessity a huge majority of new faces. I tried connect to some newbies, though. They often stopped by my book table. (At the table I also gladly waved around with the recent Croatioan Sirius B magazine translation of my "Murder on the Moon" novelette.) Overall a good arrangement, but all was not perfect. Not so good were: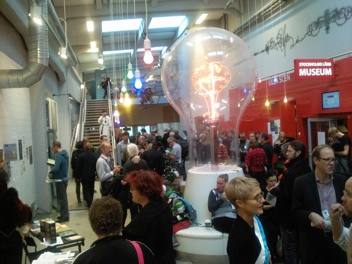 * Saturday evening bidding parties, with only candy and soda pop.
* The WiFi, slow, unavailable at times.
* Press and media contacts, which failed almost completely, except for a notice in Metro freebie paper. Nothing in Google News about Fantastika, for instance. A better media campaign and at least 100 more would have turned up!
I haven't counted, but Fantastika/Swecon 2013 was probably my 125th+ sf con. Well done by the committee, but I hope I hope con organising won't be the only future activity in the venerable old sf fandom…
Guests of Honour were:
Jo Walton, foreign author GoH
Lavie Tidhar, foreign author GoH
Karin Tidbeck, Swedish author GoH
Johan Anglemark, fan GoH
Extra guests: Michael Cobley, John Meaney, Sara Bergmark Elfgren, Mats Strandberg
Convention chair: Carolina Lagerlöf Gomez